Classy and Trashy!
Abby's trashy look was inspired by her role model, Ke$ha. Yes you read it! The rocker chic look resembles her style, and the makeup is inspired by the album art Cannibal! The gold from the album art is shown on the metallic lids, and the bright teal was added with a pop of color on the lower lash line! The spiky lashes just finish off the look! Natural, almost nude lips don't distract from the bright eyes. The hair was done with our favorite curler the "Ke$ha" curler, a wand style curler to give nice, messy, Ke$ha like curls! The head band was to add some more interest to the top half!


What is she wearing?
Top:
Zara; black faded flower print tank
Shorts: Zara; black
Shoes: (brand)
Bra: Target; white strapless
Earrings
: Target; black with clear crystals
Face: Wet and wild Ultimate match Foundation, Benefit Eye bright, Hard Candy Glamoflouge concealer
Bronzer/Blush: MAC Wonder Woman Bronzer in Pink Power, Bare Minerals Blush in cheerful, MAC Mineralize skin finish in tripple fusion for highlighting
Eyes: Lid: Urban Decay Half Baked Crease: UD Smog, Dark Horse, and Hustle mixed Highlight: UD Sin Lower Lash Line/ Water Line: UD Electric Eye pencil, UD Shadow "Alice" Painkiller Lower lashes: Mirabelle lash primer with Painkiller applied while drying Lahes: NYX Lashes in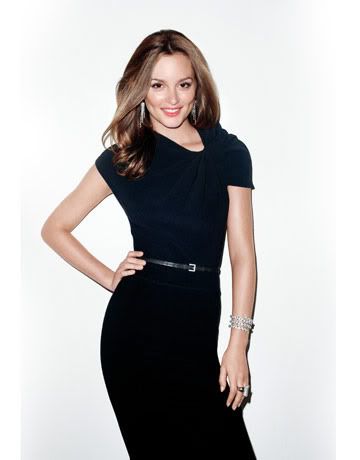 Alicia's look was inspired by the classy Leighton Meester, a simple black dress with some small heeled nude pumps. The white belt was used to synch in the waist line and give the look some figure. The single ruffle on the top of the dress gives us small chested girls a little something to work with by creating the appearance of a fuller bust! Now who wouldn't want that? Now the real pop comes from the head band! The sweet lace of it gives her an air of innocence. The almost Egyptian feel to the headband is the best part of the entire outfit! The makeup is also very classy. Just a simple golden eye with some slightly winged liner and outer demi-lashes!


What is she wearing?
Dress
: Speechless; black strapless ruffle mini dress
Shoes: Mix No. 6; "Barbie" shoes Nude
Belt: From an H&M dress
Bra: Cheap/random; nude strapless
Earrings
: Rue 21;
Wooden disks
Blush
/
Bronzer
: MAC Wonder woman Bronzer in Pink Power, Maybelline Mouse Blush in Peach, Base Essentuals Blush in RSVP, MAC Wonder Woman Highlight in Pink Power
Eyes: Lid: UD Baked Crease: Smog and Dark Horse Mixed Highlight: UD sin Lower lash line: UD Smog smudged Liner: UD Perversion liner for tight line, Bobbi Brown gel liner in Black Ink winged out Lashes: NYX 122 cut in half
Lips: Sexy mother Pucker


Alice In Wonderland!
Here are our other pictures! :)
#1 Prep work...
#3
#4
#5
#6 olala
#7
#8
#9 Dance party alone! Thats how we do it!
#10
#11
#12
#13
#14
#15
#16
#18 Werk
#19
#20
#21
#22
#23
#24
#25
#26
#27
#28
#29
#30
#31
#35
#40
#45
#50
#55 Im cute.. dont worry about it
#60
#65
#70
hey der ;)
#75
#80 OOH, its a silver unicorn! :)
#85
#90
Were still working with lighting, all we had was an old lamp! And the awkward white sheet? We know, oops?! Which is your Favorite?! Let us know!
~Abby and Alicia